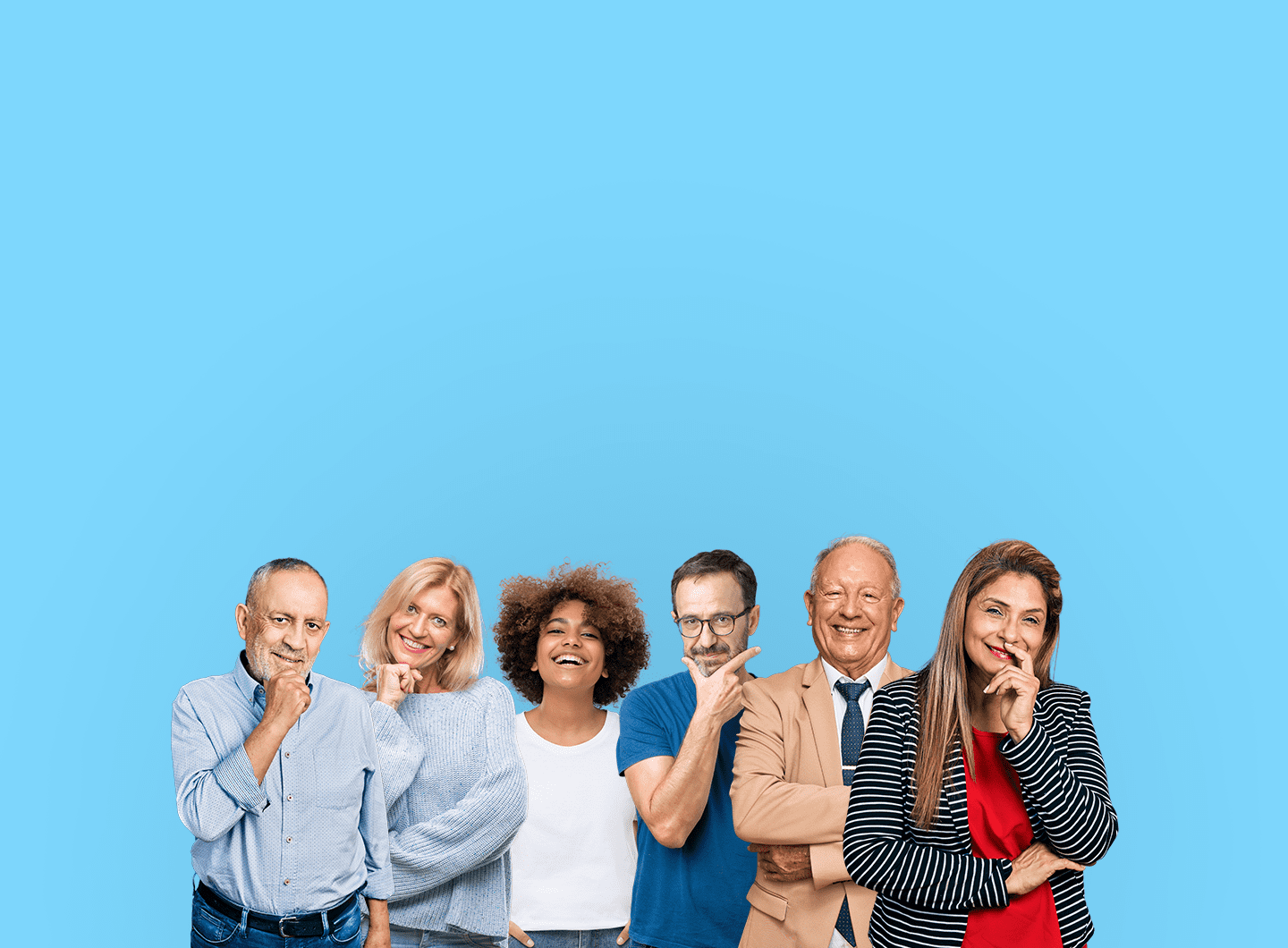 Italian language intensive group course

COME STAI? Italian Language Intensive Group Course is our most popular course
That allows you to learn and socialize during the morning and includes conversation sessions in the afternoon.
This course includes language and conversation sessions for 19 hours per week.
COME STAI? Italian Language Intensive Group Course is the perfect choice if you wish to attend a complete and intensive Italian Language Group Course that allows you to achieve excellent results in a few weeks, while enjoying our free time to relax and explore the area.
This course is open to all levels and it will provide you the main tools to break into the fascinating world of the Italian language and culture, while sharing your time with other students of different ages and nationalities!
from 200€

Italian language intensive group course
---
Location:
Urbania
---
Course lenght:
from 1 to 48 weeks
---
Total hours:
19 hours a week
---
Course structure:
3 hrs/morning + 3hrs Tuesday and Thursday afternoon
---
Entry level
All
Improve your Italian quickly
Everything you need to know
COME STAI? Italian Language Intensive Group Course is open to students of all levels, age and mother tongue who wish to understand, speak, read and write Italian correctly.
Class schedule
Morning, Monday – Friday
9:00 – 11:00: grammar and language
11:00 – 11:30: break
11:30 – 12:30: interactive activities
Afternoon, Tuesday and Thursday
14:30 – 16:30: conversation and activities
Classes are intentionally small to guarantee individual attention to all students. Groups are evenly formed depending on students' previous knowledge of the Italian language. For this reason, you will be invited to complete a placement test, if you are not a total beginner.
During high season, the school offers optional cultural classes in the afternoon and tutoring sessions on Saturday morning.
We suggest you combine your COME STAI? Italian Language Group Course with private sessions in the afternoon if you wish to privately consolidate what you have learned during your group classes or if you have specific needs. At the end of your course, you can take a final exam to attest the linguistic level you reached. Centro Studi Italiani will release a certificate that you can use for your job or University credits.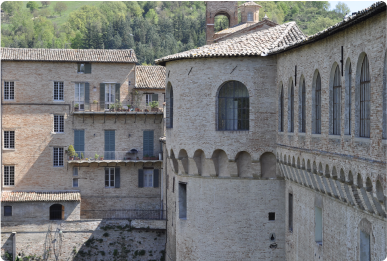 Urbania is a very charming and welcoming place where everybody speaks Italian.
Nestled between Tuscany and the Adriatic Sea, Urbania is a valid alternative to cities invaded by mass tourism.
Surrounded by the breath-taking scenery of the Montefeltro and at the foothills of the Unesco World Heritage Center of Urbino, Urbania will add a special touch to your COME STAI? Italian Language Group Course.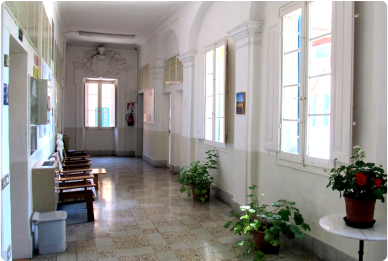 The school is located in an ancient building in the heart of Urbania historical center. Bar, restaurants, supermarkets, banks and all other facilities are within walking distance.
The building contains a wide range of student facilities, such as numerous classrooms, several piano studios, an art studio, a courtyard and an extensive Wi-Fi network.
The building is open until late and it will easily become your second home in Urbania: here you will meet your new international friends, spend your free time, study and practise Italian.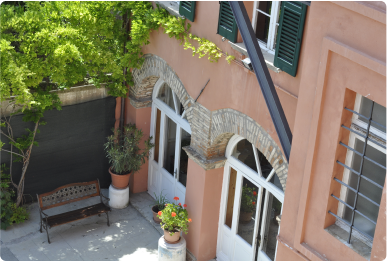 A historical public library is very close by and all students have free access to the library services.
The school is open all year long and during the summer hosts a number of social events, concerts and public lectures.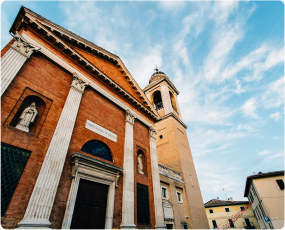 Live in Italy as an Italian
Centro Studi Italiani offers different kinds of accommodation and gives you all the assistance throughout your stay.
You can choose between furnished apartments and host families. Choosing a homestay, you can enjoy a memorable immersive experience of genuine Italian life and hospitality while practising the language and getting to know the locals.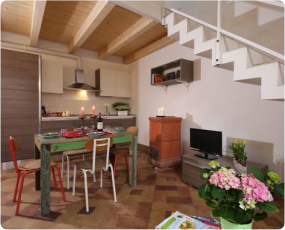 Apartments
Apartments are fully furnished, including linens, washer, as well as kitchen utensils and appliances. All apartments are within easy walking distance from the school. They vary in size and number of bedrooms. Both single and double room options are available.
You can choose between the following options: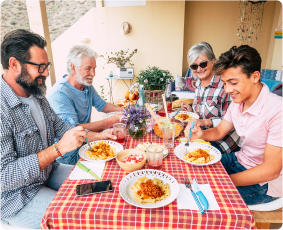 Host family
Students live in comfortable homes along with their host families with single or double room occupancy. All families meet the highest standards and criteria required by the school's housing office.
Three different combinations are available:
Sono disponibili tre diverse combinazioni:
All housing options, carefully selected by our dedicated staff, are within walking distance from the school and the main city facilities. For specific housing requirements, our student office is at your disposal.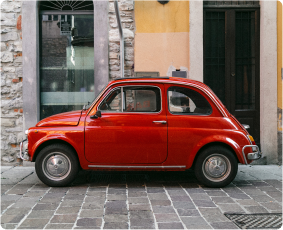 Pick up
Centro Studi Italiani can arrange pick-up on request from the main train stations (Pesaro and Bologna are the nearest) and airports (Ancona and Bologna). .
For specific pick up requirements, our student office is at your disposal

Excursions
Centro Studi Italiani Urbania offers a number of excursions and experiences, together with cultural classes. While living in this peaceful place, you will have the chance to discover exquisite destinations of artistic interest and natural beauty around Italy in daily trips.
Popular destinations are:

Activities
You will also have the possibility to take art and ceramics classes with outstanding local artists, challenge yourself by cooking real Italian recipes and combine them with the best Italian wine, with the guidance of amazing local food and wine experts.
Popular activities and experiences are:
Excursions and activities are planned according to season and weather. The updated calendar will be presented at your arrival at school.
Why choose Centro Studi Italiani?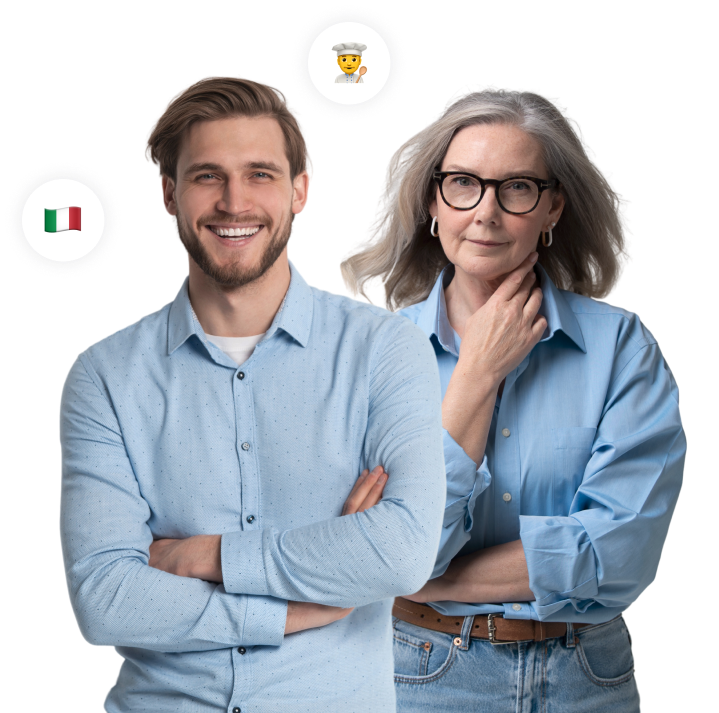 Learn italian in Italy
Pricing?

Registration and prices
Price starts from € 200 per week.
For longer periods, the weekly price is reduced.
Registration fee
€ 65
Listen to +1200 students who decided to "learn Italy, not just Italian" say about us!

Fill out the form and get all the information you need
FAQ
Can't find the answer to the question you're looking for? Contact the support of Centro Studi Italiani